Why Choose Solid Brass Lighting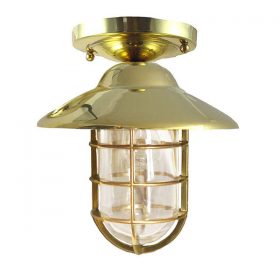 Over the years, there have been countless debates surrounding the best metal to choose when selecting building products. From a durability and value perspective, solid brass has proven time and again a great choice for indoor and outdoor lighting.
Brass is a durable metal derived from a combination of copper and zinc. Among its many attributes, brass is most well-known for its ability to survive in all environments. Unlacquered brass products typically start bright and then naturally "patina" (turn darker) over time. In salt-rich environments, the unlacquered brass will eventually turn green or verdigris
Specifically, Brass:
Is Highly Durable Material – There's a reason the Navy uses brass & bronze through-out their vessels. Its unique composition is designed to 'stand the tests of time.'
Can Withstand High Temperatures and Humidity/Sea Air – A primary reason for its use on ships, brass is fire resistant and performs well when exposed to saltwater/air
Will Not Corrode – Unlike aluminum plated products which can corrode, flake off or disintegrate over time, brass has one of the highest resistances to rust and corrosion
AND … it looks great. A muted yellow, almost gold-like look, that goes with just about everything! But, if you're looking for the durability of solid brass absent its signature color, virtually any finish, from satin nickel to oil rubbed bronze to pewter and more can be custom plated.
Though solid brass fixtures can initially be more expensive, they're worth it in the long run. While aluminum plated products have to be replaced every few years due to corrosion, solid brass lights will instead naturally patina and gain more character as they age. Whether installed indoors or outdoors, on the ocean or in the mountains, unlacquered or chrome plated, its unique durability makes solid brass an ideal choice for any project.
Interested in learning more information? Check out some of our brass products.